Paola Lenti: interior and exterior furniture in Olbia
2017-12-15 Paolo Spano posted:
Are you looking for outdoor furniture?
At Redo we have the solution for you: the Paola Lenti collection is on display at our Olbia showroom.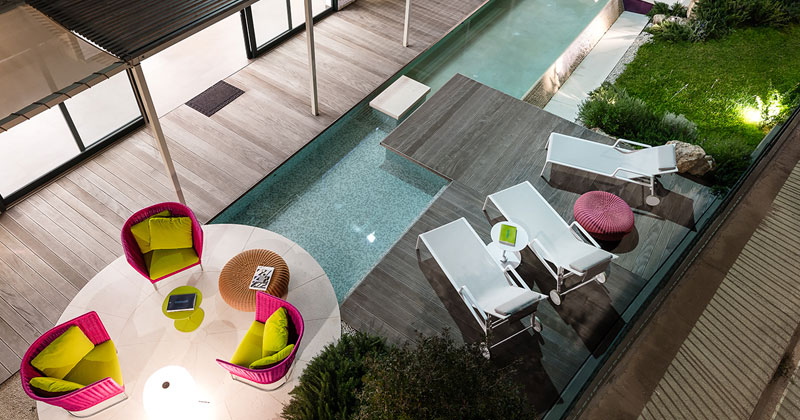 As mentioned in our blog post about yacht and boat furnishings, Paola Lenti stands out for its innovative but minimal shapes, using materials resistant to any weather.
For example, one of these materials is the nautical top, specially treated and colored, but durable.
At our furniture store in the Industrial Zone of Olbia you can try an arrangement for your garden.
We have recreated a small outdoor lounge, consisting of three Ami armchairs, a Shoji lamp and a Shell pouf.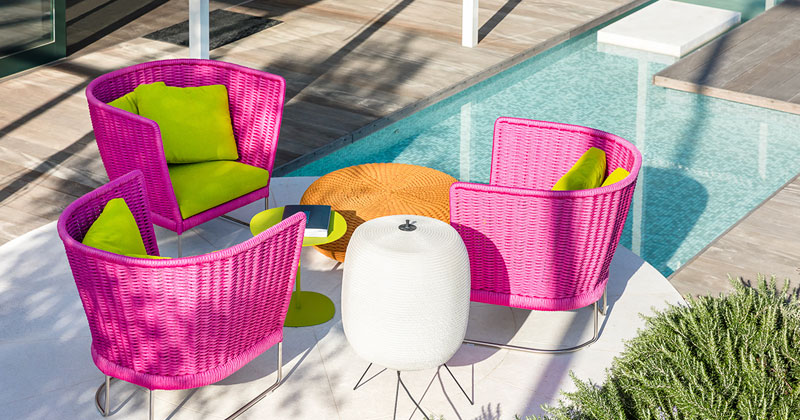 The Ami armchairs have a stainless steel, base made of stainless steel with a satin or Délabré finish, or matt varnished in avorio or graphite colour. The upholstery is hand woven with Light fabric, Rope cord, Aquatech cord or Chain Outdoor tubular knit. The cushions are created in water repellent polyurethane covered in polyester in Aquatech, Luz, Rope T or Brio fabric, matching the weave of the structure.
The chair is available in two different heights. The Ami series includes table chairs, armchairs and sofas in different sizes and types, fully customizable with the help of our interior designers.
The Shoji lamp is produced by spiraling a polyester opal cord. The base is made of black painted stainless steel. The lighting is made of LED, but still guarantees the warmth of a traditional light.
The Shell pouf, on the other hand, has a non-deformable water-repellent polyurethane structure with a fixed covering in Rope cord.
In our exclusive furniture showroom we also have an incredible Paola Lenti table on display: the Sunset table.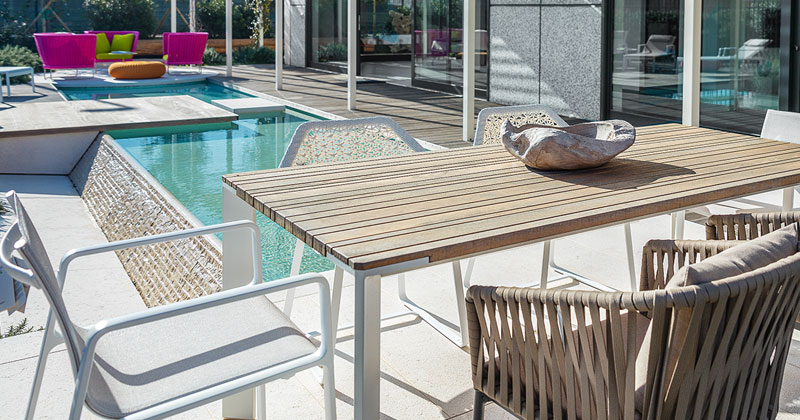 In this case, we have combined the Kettal Bitta, Maia and Park Life chairs to the table. The Sunset table has a steel frame treated with cataphoresis, available in ivory, graphite or wenge. The top is in natural or wenge-stained sassafras wood.
Sassafras is a wood that does not contain tannin, and tends to repel moisture. The surface is treated with a water-based hydro-oil repellent finish.
You can comfortably try out Paola Lenti products on show at our showroom and buy them at a discounted price!
Why choose Paola Lenti for your furniture?
Paola Lenti is also a symbol of Made in Italy. Since 1994 he has carried forward an idea of cutting-edge design coupled with continuous research into innovative materials. The bright colours combined with the soft and enveloping lines, provide the elements of furniture lasting over time.
Most of the materials treated in Paola Lenti products are the result of company research.
Book an appointment at our showroom in Olbia and, thanks to the collaboration with Marcarino arredamenti, we will show you all the materials with which you can create your personalized Paola Lenti furniture.