When talking about Baxter, we talk about quality. All Baxter products are handmade in Baxter's warehouses, with the exception of some typical craft creations from Nepal and some metal accessories from India.
Baxter's key product is the leather: only natural and unfinished leather are subjected to minimal workmanship, so that every small natural imperfection becomes a valuable element of the end product itself. 90% of this leather comes from large bulls, mainly bred in Northern Europe. Due to the harsh climate, the bulls are bred in stables, protected against the weather and other animals, and follow a high quality diet. Baxter leather are all "Full Flower", that is, prestigious leather that is not divided into layers, where all pores remain visible, ensuring breathability, elasticity, and naturalness that is pleasing to the touch.
To make the sofa feet, Baxter uses wood from specific forests that comply with the principles of eco-sustainability provided by the program for the recognition of national forest certification schemes (PEFCs).
Thus every Baxter product becomes a small artwork.
Baxter boasts a collaboration with world-class designers:
Marco Milisich

, who among other things designed the Alfred series;

Piero Lissoni

, who designed the Joyce series;

Paola Navone

, among the hundreds of creations for Baxter, has created the most well-known series: Chestermoon, Budapest and Hard & Soft;

Roberto Lazzeroni

, who designed the Rafael line;

Matteo Thun e Antonio Rodriguez

, who designed the Godard series;

Draga & Aurel

, who proposed a whole version of the Alfred series;

Doriana e Massimiliano Fuksas

, with the Dolly armchair line;

Vincenzo De Cotiis

, with the Tactile series;

Antonino Sciortino

, with the Gibellina chairs and stools.
For our showroom, which specializes in designing and selling designer furnishing items thanks to our continuous collaboration with Marcarino arredamenti, we have showcased one of Baxter's most sought after and well-known sofas: from an idea by Paola Navone, here is Budapest Soft.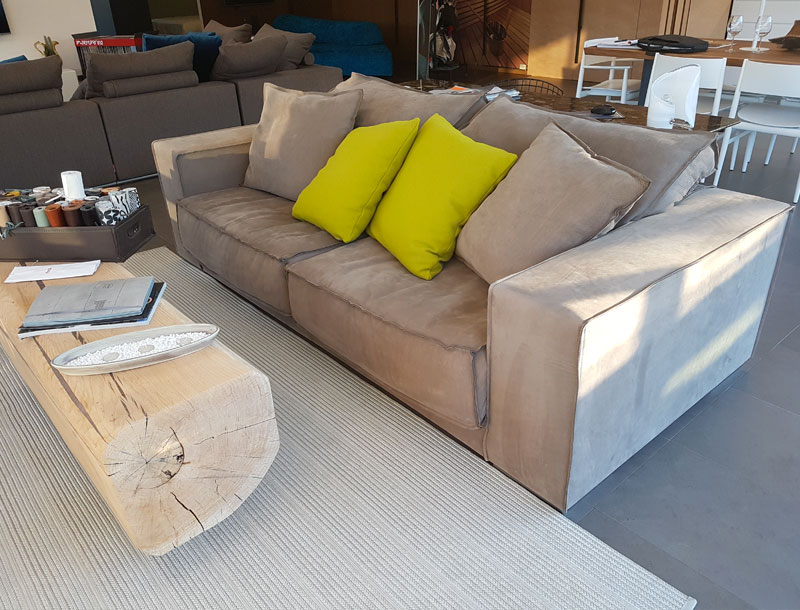 This is a two-cushion sofa, created in Nabuk leather. It guarantees softness and a strong feeling of warmth and coziness, which is sensual thanks to the "velvet" effect, also known as "scrivente" in Italian. It is available in various colors (blue, charcoal, green, lava, light gray, moon, night, rose, sable, sage, saffron) and our colour choice in this instance is Lava.
We completed the sofa with two acid green cushions.
It is a classic but modern sofa that can fit every room.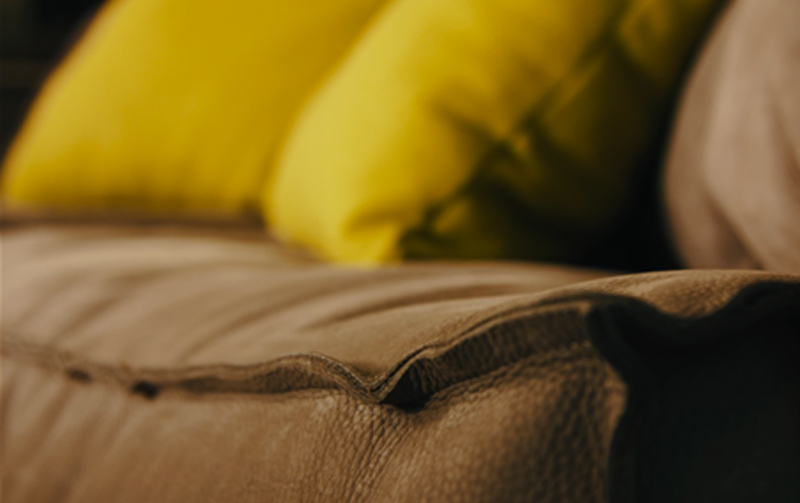 In our showroom you will find all the samples of various leather types, with a wide choice of colors and treatments, to create your custom Baxter sofa.
If you are looking for a Baxter product, we are the dealers throughout Sardinia. Contact us or visit us at our Olbia shop to choose the Baxter sofa that best suits your home decor.