Dreaming of exclusive furnishings for your yacht?
We can furnish both your boat's exterior and interior, thanks to the partnership with our suppliers. We can customize products to create the perfect decor for your dream boat.
We are the official resellers in the Costa Smeralda for Paola Lenti's products, the most distinguished designer in boat interior design. The products' innovative, minimal and well-defined shapes and lively colours have been the highlights of the Monaco Yacht Show, furnishing many of the show's exclusive and international crafts at the fair.
Among the most interesting collaborations of Paola Lenti, is that with Sanlorenzo yards, which in 2014 ranked second place in the the world's largest boat builders over 24 meters. The uniqueness of Paola Lenti's design elements is the use of peaks for nautical crafts.
Among its most popular series, we have "Cove", a comfortable cushion with an adjustable backrest and storage compartment, developed with a rugged aluminum spring structure on elastic belts with non-deformable polyurethane cushions with water-repellent treatment for outdoor use.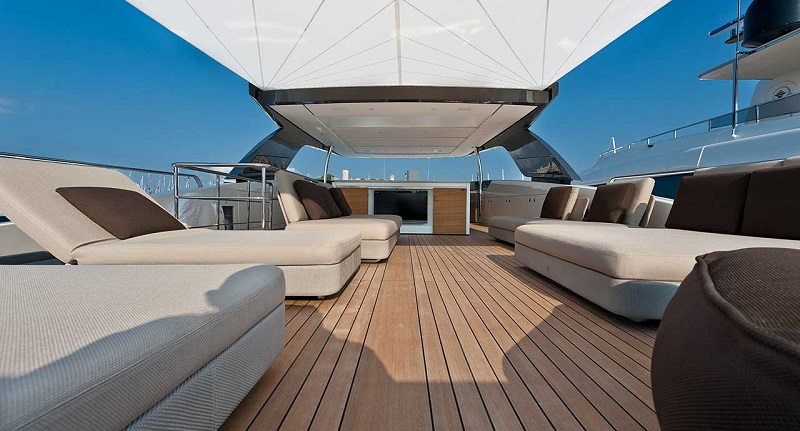 Foto from Paola Lenti
Another special feature is the "Frame" series, made up of chairs, armchairs, chaise lounges, worktops, benches, tables and modular elements. The structure of the components is made of aluminum with details of stainless steel and plastic tips; The fixed jacket is made of a solid, bicolor or mélange, "Treccia Aquatech" solid material "Rope Treccia".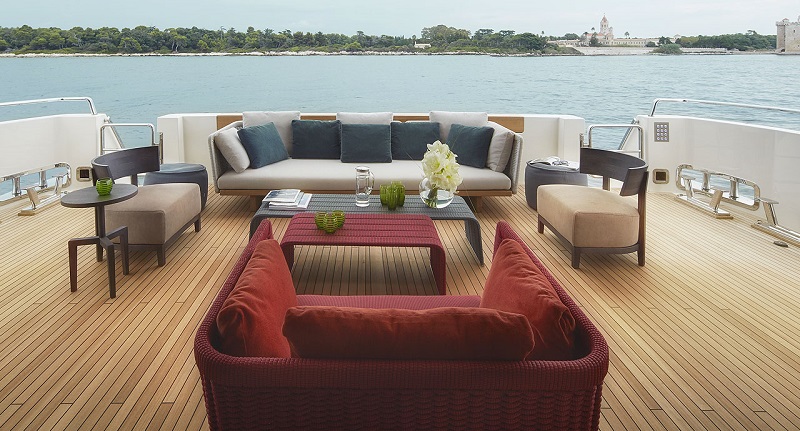 Foto from Paola Lenti
As for kitchens, since 2016, MODULNOVA has brought its own aesthetic canons and design into outer space, with a project by Andrea Bassanello. The philosophy that characterizes the design is the same that has always inspired MODULNOVA in all its collections: rigor in the lines and rationality in the organization of spaces, in order to enrich the context in the open air, giving it a touch of style and exclusivity.
An example of an ideal kitchen for boats is MODULNOVA OUTDOOR. The materials of this kitchen are resistant to moisture, weather, heat shrinkage and wear: epoxy powder painted steel and Pietra Piasentine stone. In addition to the classic barbecue grill, a wood-burning oven, a fryer, a teppanyaki plate and an induction plate are available.
In our showroom we have a wide selection of interior design accessories, which can be customized in fabrics, colours and sizes, according to your requirements.
Among the company's many brands, we offer:
PORRO: Among the most renowned names in the world of finishings and sophisticated lines, PORRO stands out for its ability to choose, work and interpret wood, offering a wide range of products.
FLEXFORM: offers a large collection of furniture, with a focus on sofas that are the core business of the company. The highest quality fabrics, leather, wood and metals are selected and also chosen with a sustainable agenda as criterion for the company.
GIORGETTI: a brand recognized in the international landscape of furniture design for simple and elegant style, for the quality of raw materials (wood, leather, and also metal, glass and padding) and for its strong connection with tradition combined with a the use of technology.
RIVA 1920: The company boasts collaboration with over 100 designers who seek to shape the beautiful material that is wood. For almost 100 years, always faithful to its principles, is a reality made up of traditions, culture, creativity and innovation.
Come and visit us in our showroom in Olbia (located on via Rwanda, 9) or contact us to arrange an appointment with our designers. Thanks to the collaboration with Marcarino's interior design we are able to offer you different custom solutions for the furnishing of your boat!