If you talk about Made in Italy, you can't not talk about Flexform.
In 1959, Flexform was born from an idea of ​​the Galimberti brothers who decided to open an artisan workshop, and later a showroom in Brianza.
The values Flexform always follow are: craftsmanship and Italian-made; not only an Italian workforce, but also the supply chain. Fabrics, skins, padding, wood and metal are finely selected.
Famous for their sofas with large and soft cushions, Flexform also pays great attention to the quality and the treatment of goose feathers. In order to ensure optimal comfort, the feathers are treated and the feather tips are removed.
Flexform is proud to collaborate with some of the greatest designers of all time: Joe Colombo, Asnago-Vender, Cini Boeri, Rodolfo Bonetto and many more. With designer Antonio Citterio, however, a special relationship was established, a collaboration that has lasted for over 40 years, leading to the creation of, among others, the couch that has broken all the previous rules: the Groundpiece sofa.
Groundpiece has shattered the concept of sofas, introducing new proportions and measures.
It has changed the way to sit on the couch: it's very deep to provide extreme comfort, it is especially low to provide casual seating, and its large goose-feathered cushions give you an extreme feeling of warmth and softness.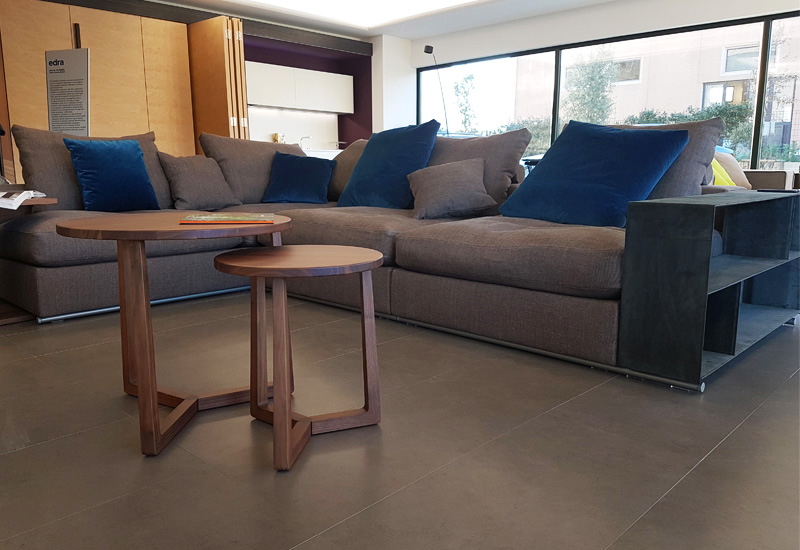 This innovation is due to the change in the use of the sofa: in fact, sofas are no longer just a complement to furnishings to welcome guests, but has become the centre of a room's decor; people use sofas to eat, watch tv, study and work more than they use a table.
Groundpiece is the break of a cliché.
It is a transformable sofa, composed of several elements that can turn it into a pouf sofa, chaise longue, to become a container.
At our unique furniture shop in Sardinia, you can find the Groundpiece sofa being showcased.
We chose a 3-seater corner sofa with cotton coloured lining "Emma 366" (brown). On the left is an open armrest made of metal frame and black suede lining (6005).
We have completed the sofa display with two other Flexform elements: the Jiff and Vienna tables, made of solid wood.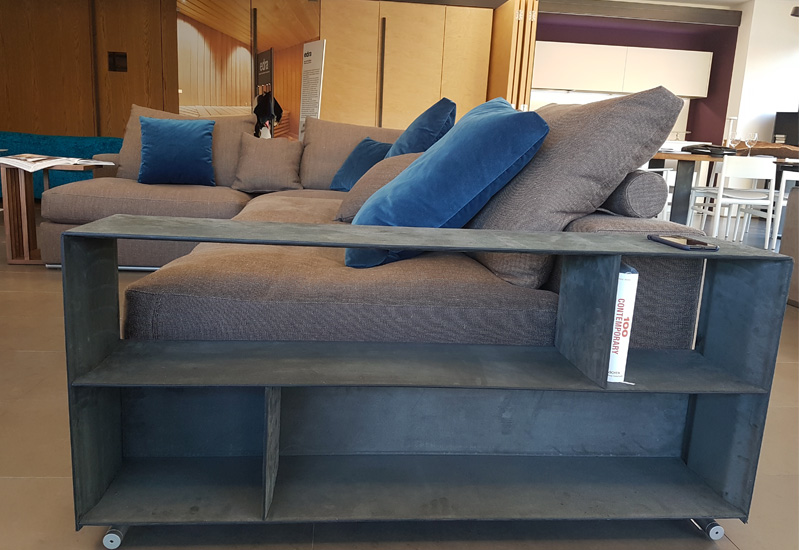 If you are looking for a comfortable and functional sofa that's easy to assemble, then the Groundpiece sofa is for you. In our Olbia showroom you will find all the available options, where you can choose your desired fabric and colours to create your sofa.
Contact us or come and visit us. Thanks to our partnership with Marcarino furnishings, interior design specialists, we can create the most suitable furniture for your living space.