In our furniture showroom in Olbia, we can now have a look at the Newton extra natural side table by Riva 1920.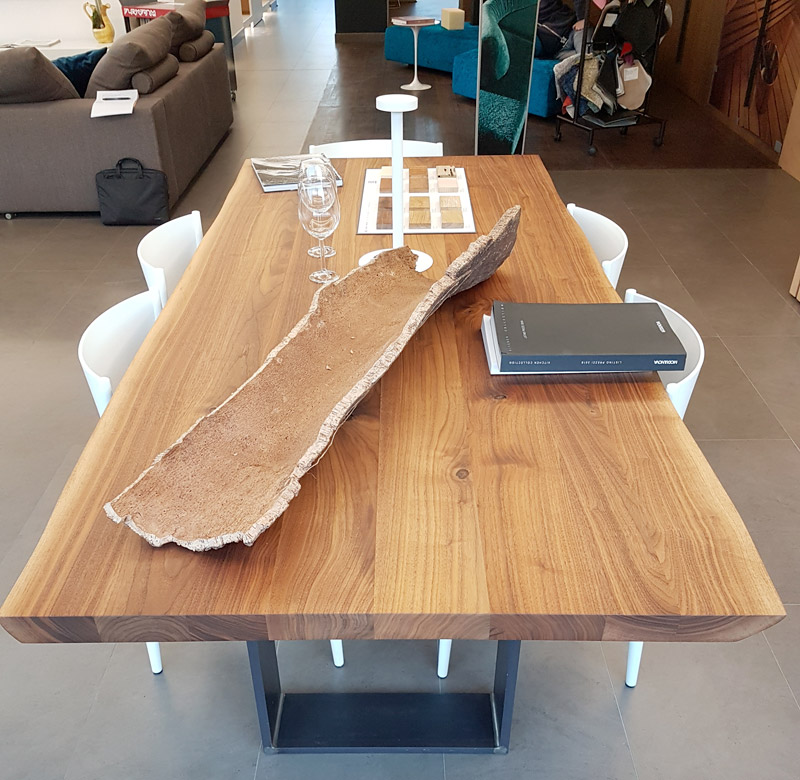 It is a unique block table with an American walnut top, natural borders and welded iron legs. The wood finish is of with natural oil / wax of plant origin with pine extracts.
The table on display is completed with Neve chairs by Porro.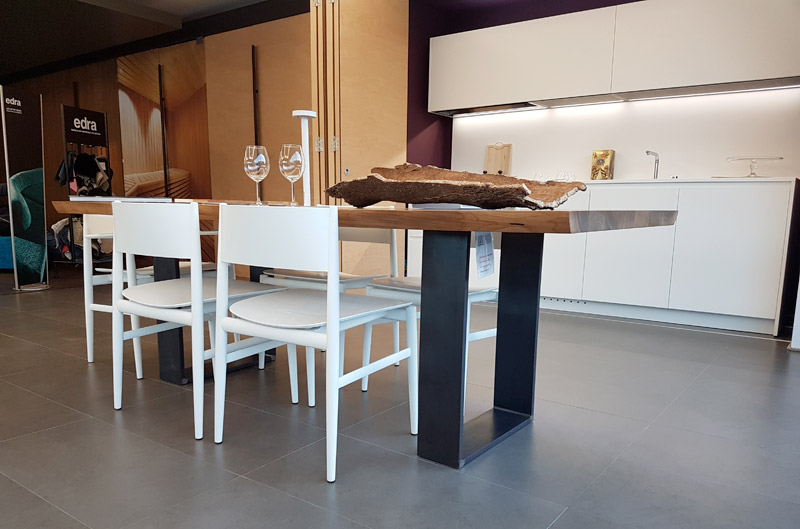 The Newton table was born from an idea by Maurizio and Davide Riva, who now holds Riva 1920 together with his sister, Anna.
They have distinguished themselves in the furnishings landscape thanks to an entrepreneurial idea aimed at preserving the trees' assets, maintaining traditions related to interior decoration, and using substances that do not harm the environment during the production processes.
Their strength is in magnifying the shapes and the beauty of wood.
For this table you can choose different metal elements and finishes: you can choose from an matte brushed titanium effect, brushed antique matte effect, brushed antique bronze matte effect, brushed steel matte effect; natural iron with an oil finish or lacquered iron "irondust" effect; the colors range from traffic red to intense black, from brown-gray to gray powder, to light gray, to various shades of white: traffic, pure, pearl, gray and cream.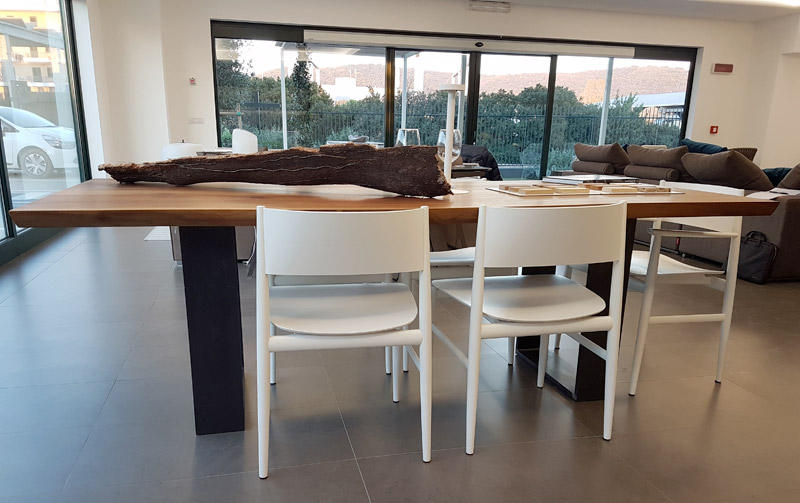 As ecological sustainability is the strength of Riva 1920, even recycling enters into creations.
A very interesting material that is mainly used by Riva is the "briccole". These are the dismantled piles from the Venice Lagoon, which, when they reach the "maturation", are taken from Riva, cut and hand-made with natural products, and then composed into indestructible tables that will last for years. The charm is that every briccola tells a story, because it has been exposed to weather and animals for so long, it will be corroded and consumed in a unique way. How many fascinating and mysterious stories every briccola in the lagoon must have heard!
Another material that is a bit unfamiliar but has a strong aesthetic impact that is used by Riva 1920 is the millenary Kauri from New Zealand. It is the oldest wood in the world. The trees date back to the Jurassic period, up to 50,000 years ago, fallen after a cataclysmic natural event, buried under tons of mud, only re-emerging during our time. There are trees that can reach 70 meters in length and 9 meters in width, which, once worked, become real sculptures of design.
Want to buy a Riva 1920 product? Know that you will do well to the environment, too! In fact, Riva has activated the "Natural Living" program: for each product purchased, the buyer will receive a small plant, on request, to give back to nature the favor received from the wood to produce furniture.
We at REDO, in collaboration with Marcarino arredamenti, would be happy to advise you on Riva 1920 furniture that best suits your living space, creating exclusive and unique furnishings.
In our shop you will find samples with all kinds of wood and various colors. Contact us for more information on our unique showroom in Olbia, Sardinia.