Sleeping is good, but sleeping well is better!
That is why we decided to start carrying Zanotta's collection of beds in our designer furniture showroom. Not only comfortable beds, but indestructible design that has lasted over time.
We have chosen to showcase the NYX 1707 bed designed by Emaf Progetti in a studio created by the founder of Zanotta himself, Aurelio Zanotta.
This bed is the emblem of simplicity: a black steel structure supporting the mattress and the spring in beech slats curved by rigidity regulators. The headboard, also in steel, is covered with two pillows in goose feather.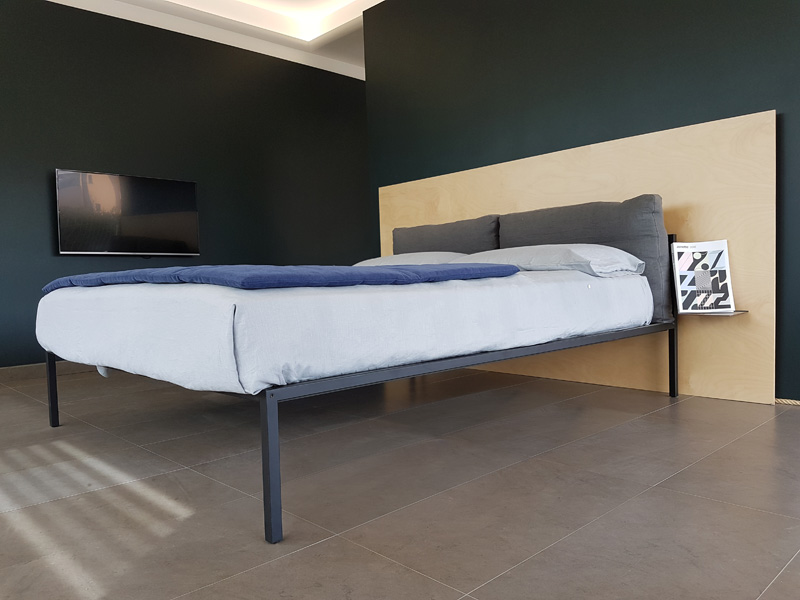 The bed comes in black and white and in 5 different sizes: 140x200, 160x200, 170x200, 180x200, 200x200 and 90x200.
For the cover you can choose between "Tele Egitto" ("Egyptian Fabric"), "Vasco 20", "Tecla 30", "Stelvio" and "Pelle 90" each with its associated colors. For the Vasco 20 coating, for example, you can choose between gray and brown; for "Pelle 90" there is greater variety, with colours ranging from white to red, from blue to turtledove, without neglecting the natural brown and black leather.
With all these choices, Zanotta's NYX bed is a bed that suits any bedroom decor, from a modern bedroom for kids to a more classic love nest for a mature couple.
Emaf Progetti was established in 1982 by Aurelio Zanotta. Since 1991, Zanotta's successors have developed its activity, mainly dealing with design, interior design, product image and product development, and graphics and communication for the furniture sector.
In addition to the NYX series, Emaf Progetti has designed and developed other projects for Zanotta, such as the Alfa sofa series, Barocco and Greg, the Caracalla and Milleunanotte box beds, and the Oliver and Sanzeno tables.
In addition to beds, we have all the Zanotta samples available in our Olbia showroom.
We chose to carry the Zanotta collection in Sardinia because Zanotta is synonymous with Made in Italy quality.
Zanotta was founded by Aurelio Zanotta in 1954 in Nova Milanese, near Monza.
The great principle behind Zanotta is to refuse end-to-end profit but to instead develop culture behind every product.
In fact, we try to explain that a quality product, besides enriching any environment, is a product that lasts over time. From this principle unique furnishing items have been born, exhibited in the largest museums in the world.
"A product should not only be beautiful and innovative: it must also be robust, functional, easy to maintain, hard to deteriorate, eco-compatible and recyclable. [Source Zanotta.it]"
Thanks to the partnership with Marcarino Arredamenti, we can offer interior design solutions where Zanotta products become real art pieces.
In our showroom, our designers will be able to advise you how to decorate your bedroom, integrating the NYX bed with the most suitable covers. Call us or visit us, we are located in Olbia via Rwanda 9.